Data Recovery
At certain point of time we may come across some kind of apprehension of losing some important data on PC, hard drive, memory card or USB devices due to oversight or wrong deleting.  But one need not be troubled over these issues since there is a possibility to recover deleted files. We have some helpful tips which could prove to be useful in such situations. When an incident of data loss tends to take place, one should at first stop using the computer or any other external memory storage device which would be supportive in protecting the deleted files for data recovery.  When the user tends to right clicks a file and presses `Delete button', the system has a tendency to hide the data by eliminating its file directory, marking the space as open for usage. It is at this stage that one can get the file back with ease by rebuilding the file directory.  If the device is used after the file is deleted, it would probably write some fresh data and the contents could be totally erased of the deleted file and thereby chance of a recovery would be difficult.  The situation could also be more dreadful if one would have a hard drive, USB drive or a memory card with restricted free space. There are three options of recovering the deleted files:
Recover deleted files from Windows recycle bin  
If the user has deleted a file on the computer to the Recycle Bin and has not Emptied Recycle Bin then recycle bin recovery is possible.  On opening the Recycle Bin locate the file and right click the file to be retrieved and opt for `Restore'.  This will help in recovering the deleted file to its original location.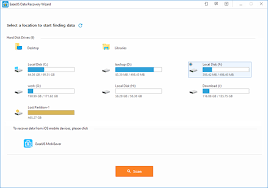 Recover older version of the lost/deleted file    
If the Recycle Bin has been emptied the user can recover an older version of the deleted/lost file by utilising Windows built-in free backup and restore features by clicking the `Start' button > Computer, navigate to the folder which contained the file or folder and right click the same and then by clicking Restore previous versions. You will get a list of the earlier available versions of the deleted files/folders with various dates and time. By opting on the preferred version, you could click `Restore' to retrieve the desired file. This function can be used for Windows 7. In Windows 10.8.1/8, you could open the folder having the deleted file and then click on `History'.  The history of files would be displayed with the most recent backup of the folder.  Click on the `Previous' button to find and select the file to be retrieved by clicking the green Restore button in order to get it back.
How can one retrieve deleted files from recycle bin
Deleted files in Windows recycle bin can be recovered by right clicking on the file and clicking `Restore'. On doing so, the deleted file will return in its original folder together with content, date and time.  The following procedure can be followed for guidance:
Open Recycle Bin by double clicking or double tapping the icon on the Desktop
Locate and select the desired file needed to be restored
Right click or tap and hold the selected file and opt for Restore
Recycle Bin will reinstate the deleted file to its original location