Apple next iteration of the iPhone is expected to be unveiled in next few months but rumor mills are working overtime to come up with new shocking revelations. However one thing has been cemented that the next iPhone will feature new exciting hardware along with minimal design changes. A year ago it has been revealed that iPhone will do away with the 3.5 mm audio jack in order to make smartphone slimmer. A number of leaks have confirmed the expected price, battery size and new earphone design of the iPhone 7.
A reputable leakster going by the name Onleaks has stated that Apple will be increasing the battery life on the next generation of iPhone devices. iPhone 7 will feature 1960 mAh battery which is quite notable as iPhone 6 just had a  1715 mAh battery. iPhone users have long complained about poor battery life and Apple's move to improve the battery capacity is commendable with iPhone 7.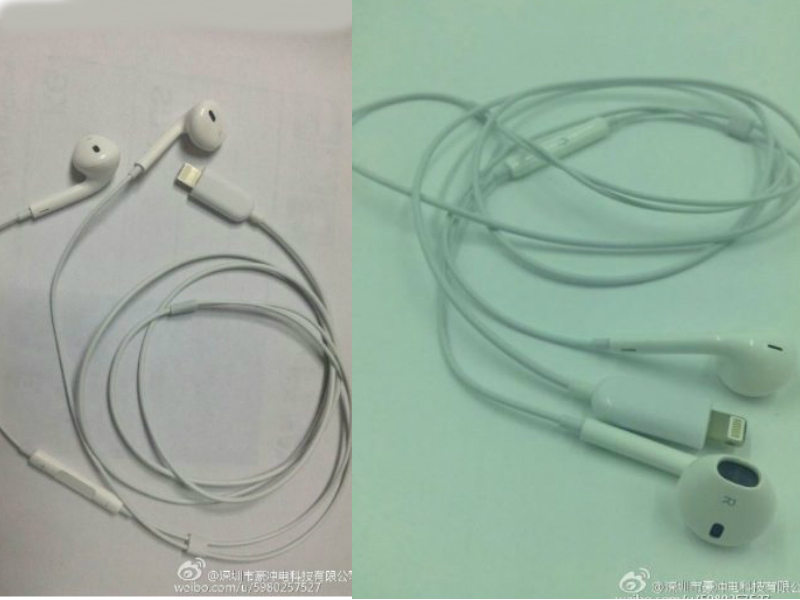 Leaked earphone images shows departure of 3.5 mm jack
Images have been leaked online on the Weibo platform which showed Lightning powered Earpods for iPhone 7 in high resolution images. Images have revealed that Apple has simply done away with the use of 3.5 mm headphone jack. Users can either use the Bluetooth earphones or use a new kind of earpods which will come bundled with the iPhone7 devices. It has not been confirmed whether Apple will be offering new earpods with its devices or it will ask user to make a switch from the 3.5 mm headphones or earphone to other earphones.
Leaked pricing of different iPhone variants
Pricing leak has been made from the Weibo platform and it has been found through pricing that Apple has done away with the 16 GB variant. A number of users have complained about the lack of storage space and continuous need of deleting the photos and app in order to make space for more content. The 32 GB variant of the iPhone7 will be priced at CNY 5288 while 64 GB variant at CNY 6088 and the mega 256 GB variant at CNY 7088. iPhone 7 Plus edition will feature a larger screen and it various variant is priced for 32 GB at CNY 6088, 128 GB at CNY 6888 and 256 GB at 7888. While iPhone  7 Pro will be priced for 32 GB at CNY 7088, 128 GB at CNY 7888 and 256 GB at 8882.
Some of the major design changes to be on the iPhone  7 are expected shift of the antenna bands right to edges and coming up of a Force Touch Home button. Apart from these Apple will also be unveiling a dual camera setup which will be made available in the larger iPhone 7 Plus. The storage variant has already been understood with the pricing reveal as Apple will only offer iPhone in 32 GB, 128GB and 256GB variant. In terms of variants Apple will be offering iPhone 7, iPhone  7 Plus and iPhone  7 Pro editions.