The Bentley new SUV has been spotted again in the pictures with lesser disguise. The Bentley latest offering is being called 2016 Bentayga which is expected to be go for sale in the first quarter of next years and it has been termed as the 'pinnacle of luxury and performance' by the company. At present this luxury SUV is undergoing the last stages of development and testing.
2016 Bentley Bentayga Keeps Up With Enthusiasm
This car generated a huge curiosity and enthusiasm among the automobile critics and buyers similarly when it was first revealed at the Geneva Motor Show in 2012.
There it was named and presented as SXP 9 F concept, its remarkable design and appeal generated a huge amount of positive customer feedback. Bentley even released a sketch which gave an insight to its sportier profile at the same event. It was even called to have an uncanny resemblance to Porsche's Cayenne.
Bentayga has been named after a dramatic rugged mountain landscape found in Altantic on Gran Canaria called Roughe Bentayga.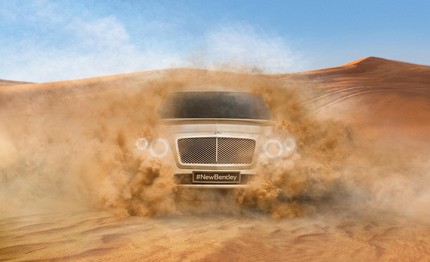 Spy Shots Reveals More Details About 2016 Bentley Bentayga
The spy shots were taken from the test mule blasting round at the Nurburging where car was kept under disguise but current pictures reveals in complete manner with no disguise at all. A development has been fitted with 6 liter W12 engine but in original car it will have 4 liter twin turbo V 8 engine. It differs a lot from concept car and possesses a Continental GT face at the front end along with curvaceous production body.
Bentley had earlier released an official video revealing the luxurious interior design of the Bentayga. It offers a touch sensitive driving mode selector and the speedometer show the maximum speed of 320 km/hr which Bentayga is certainly capable of. This video also showcases a highly advanced night-view assistance package which brings in multi-cluster display for active viewing at night.
The Major Changes And Improvement In Design
The Bentayga was revealed as a completely different entity in the Geneva Motor Show and it has evolved quite a lot in terms of design over this period. The final design has got some aerodynamically optimization which will ensure stability at high speeds. Bentley design chief had stated that the Bentayga concept car and upcoming car design has gone through a large number of changes to make it completely different from the concept car and to infuse more features in a better way.
Future Prospect For Bentley
Bentley is not just eyeing the US and Europe market, it also wishes have a fair share of Chinese and Russian market. Bentley had posted a record straight fifth year where its car sales had shown an increase and about 87% of its cars were exported.
Bentley had earlier made predictions of getting an annual sale of 3000 full size SUVs but it has already received about 400 expressions of interest for the big SUV. Bentley Bentayga is all set to reap more benefits from this trend and this car will be available at around £130,000.