Dolfi – The Portable Washing Machine
New entry of portable `washing machine' in the form of Dolfi has made its appearance and described as a `next gen washing device', it is a compact contraption which could be helpful in cleaning clothes with ultrasonic vibrations. Instead of washing garments by hand, all that one shoulddo is to drop it in the bucket together with water, detergent and the soiled clothes and the task will be done in due course. Dolfi has the appearance and general dimension of a bar soap with a plastic enclosure, making it easy to drop in a pouch and carry along while on a trip. It is a hand size device which cleans the clothes with the power of ultrasonic technology.
The ultrasonic transducer in the enclosure enables it to create subtle vibrations in the water, producing tiny bubbles which can whisk the garment with adequate force to clean the dirt after it has been cleansed by the detergent in which it has been mixed.Compared to hand and machine wash, it tends to work gently making sure the clothes are well preserved.
Operating the Dolfi is simple wherein one needs to just plug in the Dolfi to a power outlet and place it with the detergent clothes and water,switch on the device and carry on with the other tasks.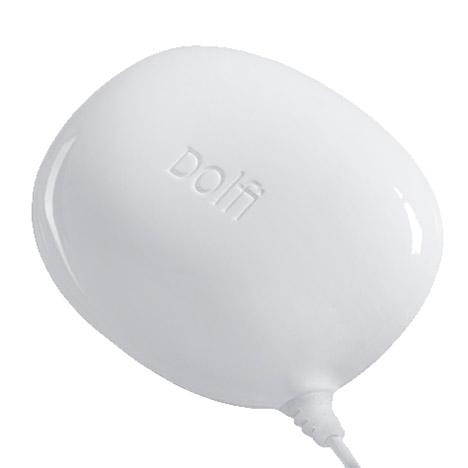 Glows Blue While Cleaning
The device tends to glow blue while it cleans the clothes softly. The blue light indicates ultrasound vibration in the water and works like magic. After around 30 to 40 minutes, the clothes are cleaned and fresh and can be rinsed and put up for drying.
Dolfi is a silent device and can be operated in the wee hours of morning or late at night and does not cause disturbance to anyone. It is completely safe to be left alone when in operation if the need arises to leave it on past its standard cycle which could even improve the washing results.
Dolfi being the next generation cleaning technology is tough on dirt and gentle on the clothes and the dirt is cleansed with the power of ultrasound without causing any damage. Dolfi is an appropriate choice while travelling which helps in eliminating extra cost on laundry and in reducing the baggage with additional garments.
With this device, laundering tend to get a lot easier as well as economical whereone can save on laundry cost at the hotel or laundry service while travelling minus the additional weight of extra baggage of clothes and the benefit to have laundered clothes without the need of laundry services.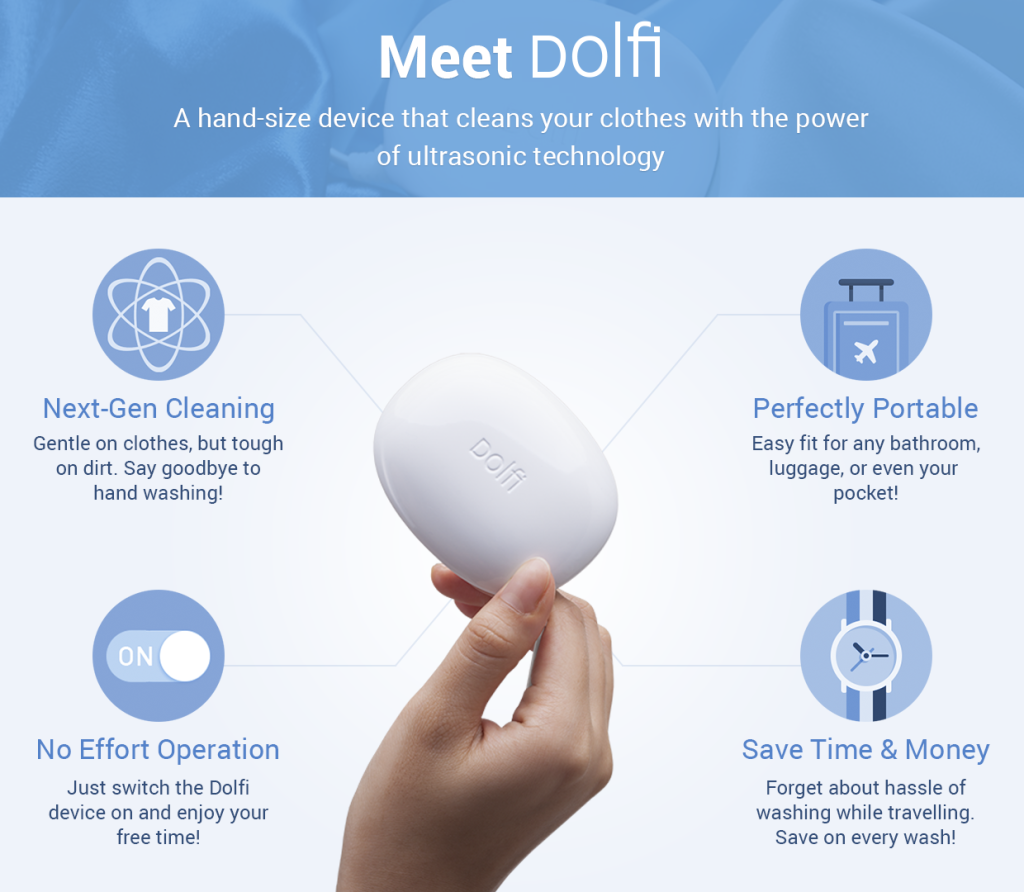 Dolfi – A Powerful Device
Dolfi is not just a pretty device but a powerful one consuming about 80 times less energy than a conventional washing machine helping in making a great impact on the wallet and the planet. Ultrasonic cleaning has been used successfully in industry as well as medical practices for several years, used for materials which need thorough cleansing like surgical and dental instruments, jewellery, watches, lenses etc.; trusting only the ultrasonic touch.
Dolfi's innovative technological solution has been created for textile washing by prominent engineers of MPI Ultrasonic, which is a Swiss company having more than 25 years of experience in ultrasonic technology and the device has been invented and tested in their laboratories in Le Locle, Switzerland.