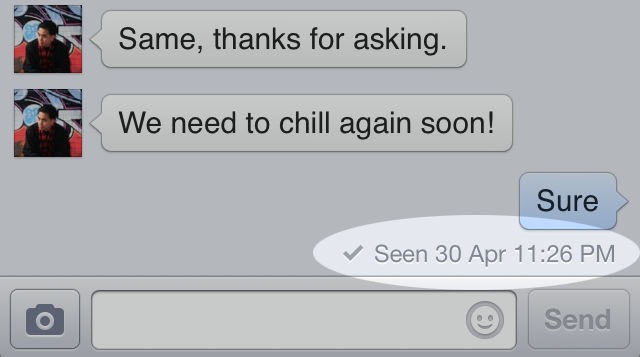 We live in a read receipt world. And this same feature was introduced by the Facebook in their chatting feature, the giant social networking site, about half year ago. There are some people out there who are really against this chat seen feature. This may be due to the fact that they might be concern of their privacy. Sometimes even after viewing the message you won't be able to respond instantaneously due to some unavoidable circumstances. This might offend the people on the other side and many differences may arise.Or sometimes you do not want to respond to someone after reading the message and at the same time you don't want your friend to know whether you are ignoring him/her. So in such cases, this chat seen feature can be really suffocating. But at the same time when you want to know whether someone's ignoring you or not then this same feature can be very useful.
This chat seen feature may sometime land you into some socially unavoidable circumstances. Ever thought of turning off this seen feature or disabling the seen feature? Yes you can do so with the help of some extension. And for those who wish to get rid or bypass this Facebook chat seen feature then you can stay on this page and proceed with reading. You can go through this article to learn how to disable the chat seen feature on Facebook.
Disable Facebook chat seen feature:
As said earlier, this can be done with the help of several extensions available that can help you keep your frenemies in dark.
First of all you need to download an extension from many of the available extensions. You can prefer installing Facebook Hide Seen extension for Chrome.
You can download this extension and install it on your PC.
That's it. All you have to do is just install it and everything is done.
Now you can work with this extension. This will automatically help you hide seen feature from anyone. Now your friend won't be notified that you have read their message even after you read the message. And the interesting thing about this extension is that you are notified whether your friend have read the message or not by displaying the seen feature.
Well, before installing this extension you may come across some queries like whether it will affect your Facebook account or not? Whether it's safe to install? As an answer to your questions, installing these extensions won't harm you in any of the case. This extension is used only as blocking script for chat. So there is no question of your account being hacked or getting banned.
Final saying:
Now that you have bypassed the seen feature, none of your friend feels offended by you or feel guilty of ignoring your friend due to your busy schedule and loose them forever. However people wants to make out way for their benefit. So this can help you balance your life between two different worlds-social life and real life, without any conflicts or some sought of confusions.