The upcoming launch of the Samsung Galaxy Note 7 is being monitored with great detail throughout the globe. A new leak has emerged wherein a number of images have been posted on the social media channels, forums and websites revealing an incredibly soothing and dashing design of Note 7. These photos has been released by the trusted leakster named Evan Blass on his Twitter account which showed official looking renders of the Note 7.
Samsung has been cautious in keeping all the details regarding the Galaxy Note 7 under wraps but Evan's leaked pictures are too true to be discarded as false renders. These pictures offer a look at a highly polished device which is in sync with the images released by the Samsung to showcase its flagship devices. The back panel of the device proudly states the 'Galaxy Note 7' and shares the same polished design as of the Galaxy S7 but has a sleek and elegant touch to it.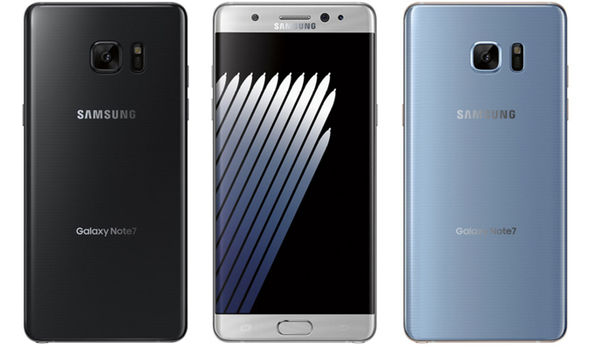 Galaxy Note 7 will have some new and exciting features
Samsung Galaxy Note 7 is doing away with the finger print which has become a must have feature in most of the upcoming flagship device.
Galaxy Note 7 will feature a unique an iris scanner which perform an eye scan to lock or unlock the device instead of finger print scanning. It is a noble step by Samsung to bring a unique and one of a kind feature on its device in order to shed the 'no change' attitude which has been rampant in the last couple of flagship devices.
Apart from allowing users to lock and unlock their device retina scanner will also give them access to protected app, folder, documents and files in an instant.
Samsung Galaxy Note 7 will have advanced translation features with the presence of new Dictionary and Speaking services. These will allow users to translate words from one language to another more swiftly than before. Galaxy Note 7 will also highly reliable text-to-speech functionality which will be an added benefit to the consumers.
Google is boosting the capability of android device with new OS launch
Android Smartphone has gone through a rapid period of advancement in the area of performance, privacy and security in the last two years. Google is all set to launch the latest Android operating system 7.0 named Nougat at a later point in this year.
Nougat brings a wide number of interesting features to the android devices which include heightened battery life coupled with power performance. A Doze feature will debut on Nougat which will put the device to a low power mode whenever it detects phone isn't moving. Multi-tasking will become more refined with support for split screens apps whereby users will be able to run two apps simultaneously on their device side by side.
Google will also be offering support for the virtual reality games and apps in the Nougat and those apps can be linked with the Google's Day Dream VR headset for better VR experience.