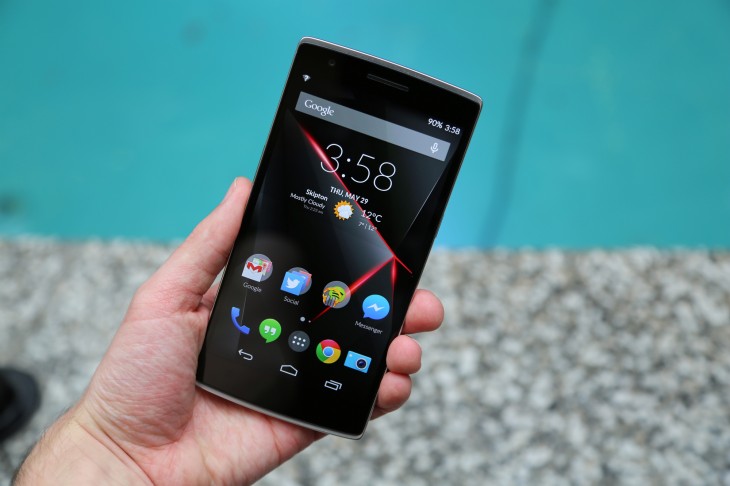 One plus believes in comprehending the basic hindrances faced by their smart phone users so that a good decision can be undertaken to fix those troubles. They strive to ensure the best day to day experience they can provide, for the users.
The Detailed Specifications
The detailed specifications of this Smartphone are:
• The dimension of this phone is 152.9 x 75.9 x 8.9 mm and it generally weighs about 5.71 ounces or around 162g.
• The operating system is based on the model of CyanogenMod 11S based on Android 4.4.
• This Smartphone is supported by a 3 GB LP-DDR3 at 1866MHz of RAM.
• It is powered by a battery of embedded rechargeable 3100 mAh LiPo.
• It also has an internal memory of around 16 GB.
The Power of the Device
This Smartphone places its emphasis on the smoothness and power of the device. But places maximum emphasis on matters of privacy. The most important aspect of the CyanogenMod is the privacy. The SMS encryption between this smart device and CyanogenMod or other TextSecure-compatible ensures that the chats exchanged between friends remain between them and private. The Privacy Guard bars the inquisitive applications from prying confidential information and helps the user to control how those applications uses the data.
The Camera Quality
The latest smartphone launched by Oneplus is the perfect amalgamation of power and endurance. The 13 megapixel camera can capture amazing shots from almost every angle and setting. The enhanced quality of the optics, sensors and algorithm increases the picture quality. Video recordings can be captured beautifully with all the details with the 4k video facility. These videos and images can also be stored in the cloud and can be retrieved from there as well. The other features hosted by this smartphone are unique, useful and possess high quality.
The Alluring Design
The quirky design is attention luring and at the same time, timeless with all the subtle curves, sleek lines and with the slightly raised jet black display. From the PCB boards to the uniquely designed battery and the dyed inner casing, everything has been customised by engineers. All thesecomponents are meticulously detailed and decked with the Oneplus logo, no matter how insignificant or tiny the component is, they are all adorned with the company logo.
The Updated Version
The updated version of this phone was dubbed as XNPH33R. This updated version is supposed to have fixed the problems with the touchscreen, which had been a grave woe for several of the users. The latest version has also fixed several other bugs and enhanced some of the other features. The battery life has been increased and some of the security updates have been dealt with to ensure no security breaches. The update also ensured the decrease in the power consumption of the smartphone during its idle state. A feature has been added like a new radio image and several of the audio bugs have been fixed.