Headphones have been a popular choice for people of all age whether it's listening to music on the go from their mobile devices or shutting off outside noises and focus on work that needs full concentration like gym or sports. There have been quite a few headphone manufacturers producing budget and expensive headphones throughout the years but no other stand out like the quality headphones made by a Hong Kong based company Brainwavz. Their new product The Brainwavz M3 however derails from their general low-cost budget headphones and introduces a powerful headphone with incredible features which might be a little bit on the costly side. But does this new headphone justify the heavy price tag of over 5K INR on it? Let's find out!
Looks and specifications

The Brainwavz M3 headphones may not be an ugly set of headphones but that doesn't mean that they have the looks to make it the rank among the best looking headphones out there. To say the least Brainwavz M3 has rather unique and odd design with a huge lump like structure protruding out that actually performs the function of helping the headphone stay inside the ear.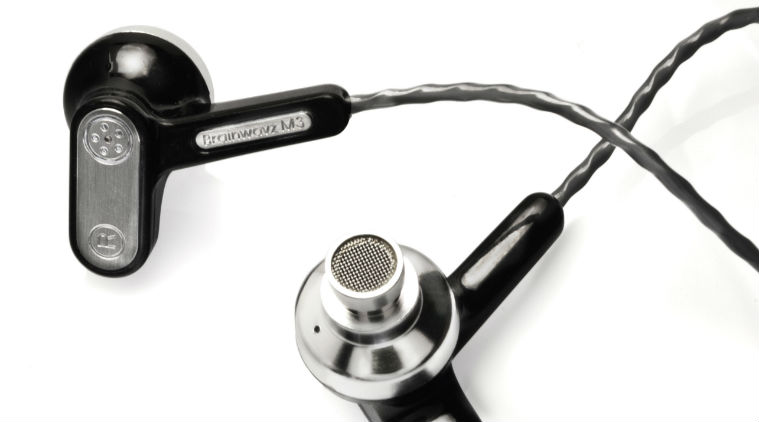 The material used for making these is a combination of plastic and metal which is a bit cheap for a pair of Rs 5000 headphones. The positive part of Brainwavz M3 is the cable which is enclosed in a plastic casing in a twisted fashion.
Earphone fit

The one thing in which the Brainwavz M3 is superior is the comfort level it provides while wearing them. The in-canal designs fits perfectly inside your ear. The headphones are extremely lightweight and after wearing them for some time you may even forget that they are there! The cable is of sufficient length so that even tall people can wear them comfortably.
Sound Quality and performance

This V-shaped in ear headphones provide good balanced natural tones. The high tones are crisp and clear and give a soothing sound for someone who is sensitive to sibilance. The mid tones are rich and come off as smooth and nice sounds. The vocals in this range are clear and you can hear every word. The clarity of the music makes it a good headphone to have. The low tones on the other hand are average. Since Brainwavz M3 is not a bass based earphone, the sounds can sometimes dissatisfy people who have a knack for high bass. With that being said, the bass quality is crisp and punchy and is in line with the rest of the frequencies.
Conclusion
If you are looking for a headphone to listen to electronic and hip hop music then you might be looking at the wrong place. If you more of a laidback, rock and jazz music guy then this is your headphone of choice. Brainwavz M3 offers a balanced and overall nice sound and packs a punch in its price range. If you are not looking for something advanced, then M3 is perfect pair of earphones to have.