Camera devices are facing a stiff competition for the smartphone segment, which is offering much better camera at highly affordable price points. Camera sales has dwindled in the recent past due to the surge in the smartphone sales backed by the manufacturers capability of integrating more feature rich camera on the communication devices. However Light has introduced a one of a kind multi aperture camera in a relatively smaller which boasts of providing professional quality photos to the consumers. This particular camera is named as L16, which has as many as seventeen lens which works together to render high quality images.
Features of Light L16 camera
L16 is extremely compact and small camera which offer higher portability and it can carried around anywhere without much difficulty. It is a first multi aperture computational camera, which allows users to shoot exceptional quality photos with ease and simplicity. Light is marketing it by saying it is the most powerful camera in such a size and with ability to offer DLSR kind of images. It has a compact design, which carefully keeps the whole camera body and the huge number of lenses in a magnificent order. Zooming capability are highly enhanced which ensures users get high definition images per click without any problem.
Specification of Light L16 Camera
15 mm f/2.4 camera x6
70mm f/2.4 camera x5
35mm f/2.4 camera x5
5 inch touch screen display
4k video recording
JPEG, TIFF and raw DNG output
Simultaneous HDR capture
Adjustable aperture
Built-in dual tone LED flash
This camera boasts the ability to record 4k videos which offers vivid videos capturing opportunity to the consumers. L16 comes loaded with a new type of camera which is called multi-aperture computational camera and it has uses folded optics and depth mapping technology for producing images. This camera happens to fire 10 of its camera at the same time and then carefully combines the images in order to produce high resolution images of 25 mega pixels.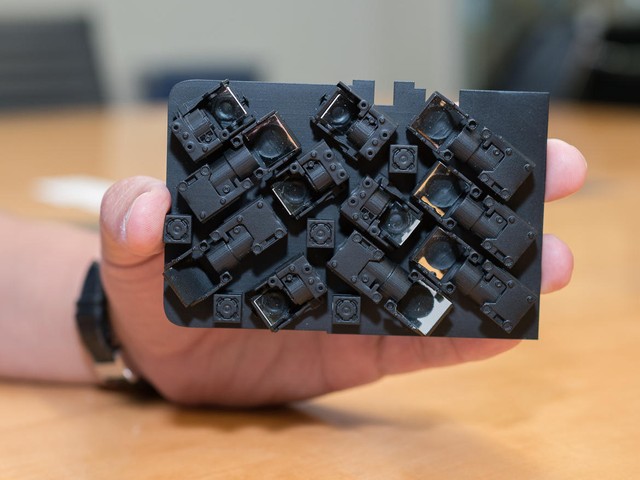 Light L16 can give a run for money to DLSR cameras
It is not expected either by the market pundits and the company itself that people will start moving away from the DLSR cameras straight away. But L16 having a 52 megapixel camera and possessing the ability to offer high quality images in a small and compact body design can seriously pose threat to DLSR camera which tends to be bulky, heavier and requires extra lenses. Considering the cost, size as well as weight L16 happens to be a better bargain for the consumers.
Light has started taking pre order for the L16 camera, which holds a price of just $1299. Interested buyers can register on the company website till November 6 in order to get their hand on the L16 camera first batch. After this L16 will be seen selling at higher price of $1699 and it is expected late in the summer of 2016. L16 also happens to be dust and water resistant which is not usually seen in the normal cameras.