Windows is finding it hard to recover the lost and present itself as a lucrative and solid OS to the smartphone users. The rise and popularity of the Android and Apple's iOS has seriously limited the penetration and popularity of Windows phone. Microsoft has revived the dwindling popularity and performance of its Windows phone by introducing the Windows 10 OS few months back coupled with launch of high end Windows 10 based phones.
Japanese manufactures launches new Windows phone
Most of the OEMS has kept itself at a safer distance from the Windows phone as they lacked the power to attract customers. Toshiba and Fujitsu have released single Windows Phone which has flopped considerably. But the Japanese smartphone manufacturers are looking towards making it popular by bringing smart. Unusual and unique Windows based phone at attractive price points. Freetel has released Katan 01 which a entry level Windows Phone at a price of just $104 and Yamada has released Every Phone at $324 which is touted to be slimmest Windows Phone with just 6.9mm thickness.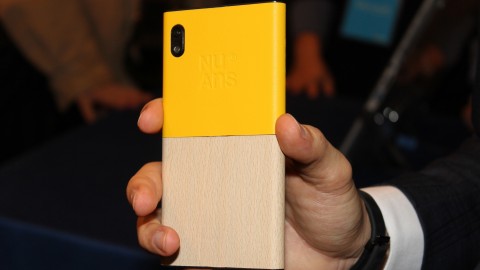 NuAns Neo is a weirdest Windows Phone
Earlier mentioned devices follow the relatively universal design and specification for their Windows phone. But another Japanese Windows Phone manufacturer has caused a storm by released weirdest phone which possess a unique design in the Windows Phone. This device is called NuAns Neo which is hefty device with a thickness of 11.33 mm but comes with unusual mix-match back cover. Its back cover is made up of wood and utrasuede which gives a peculiar but awe-aspiring design to the Windows phone.
The use of weird back cover doesn't diminish the amount and quality of hold on the Windows phone. It even lifts its aesthetics to a whole new level and makes it feels much expensive and high end gadget than it really is. The basic design and construction of the phone is similar to any other Windows device.
High end specifications help in improving the performance
This phone is designed with the Japanese users in mind therefore it comes loaded with internal slot designs which are used for IC card payments on the Japanese transportation systems. It also has the NFC for making direct transaction from the phone. It has a Snapdragon 617 processer along with a 2 GB RAM to provide a satisfactorily user experience on Windows platform. Its 5 inch screen has 720p display for better viewing experience and a 13 mega pixel cancel to some impressive snaps. NuAns Neo comes with a USC C connector which is not found on many devices and it has a superb battery of 3350mAh which can easily for two days.
Customize phone as you like it
Customers can choose from two types of covers from NuAns to customize their Windows phone. One is wallet style Flip cover and other comes in variety of TwoTone square panels. NuAns Neo will debut in January for $324 and it back cover can be bought at $11 for Twotone parts and $24 for the Flip case.