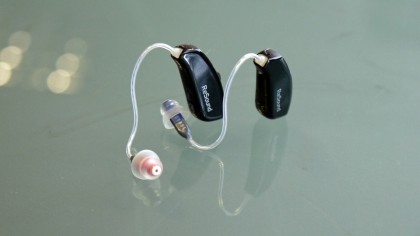 Google is trying to bring the technology revolution by allowing you to see the world through Google glass, while on same time phone manufacturers are integrating the hearing aid with the Smartphone for better experience. The blood pressure monitors, common set of spectacles and hearing aids are few examples of how we're taking these ideas on a new level.
The good news is GN ReSound's LiNX and Starkey's Halo, a new breed of hyper-connected technology is enhancing the connection with mobile phone, as it is confirmed 'Made for iPhone' hearing aids. Price is not so cheap, it is around £6000 / $10000 / AU$ 11000, but they provides the variety of benefits that combine the power of a Smartphone with small, submissive hearing devices.
Starkey Hearing Technologies, is one of the best hearing technology companies, introduce the hearing aid in first quarter of 2014, which is engineered to be compatible with iPad, and iPhone. The Halo hearing aid is sold under the Starkey brand name, and it combines Starkey Hearing Technology with iOS to deliver a revolutionary hearing solution. TruLink Hearing Control app is available as a free download in the App Store and it provides the solution from conversations to phone calls and listening to music.
A wireless revolution in technology:
According to Mohammed Qasim Shiraz, product manager for GN ReSound "The market for hearing aids is high" and major percentage of hearing aids being used in people of working age and students. In the age of technology revolution the time has finally come to integrate the two technologies. For previous products such as; LiNX and Halo to combine the newer iPod, iPhones and iPads users need to carry and use extra accessories such as; or phone clip or a wireless pendant.
The new facility of combining a hearing aid with a Smartphone has removes so many other tools, which was previously needed for hearing technology. With these hearing devices user can improve or change the music platforms to hear in different environments and users can also stream music directly from their iDevice. New Smartphone are coming with additional features such as; sensors which can benefit hearing aid users. With LiNX you can search your hearing aid' with the facility of 'Find my hearing aid', price of these hearing aids are not so cheap but, once you purchase it you will feel the royal experience in music and in other hearing services.
There are some projects such as; BioAid is in the progress to simply connect the Smartphone microphone up to generic wireless headphones with the help of app, and with these apps even you can control the hearing aids. As we all know that Bluetooth connectivity consumes power and it's a major problem for Smartphone users and super-connected earphones, but mobile companies believe that soon they will get the solution with the help of rapid advance of Smartphone technology.
Now it's not hard to believe that in next few years Smartphone could be the portal for improving quality of speech impairments, and hearing with the help of projects like this just the beginning