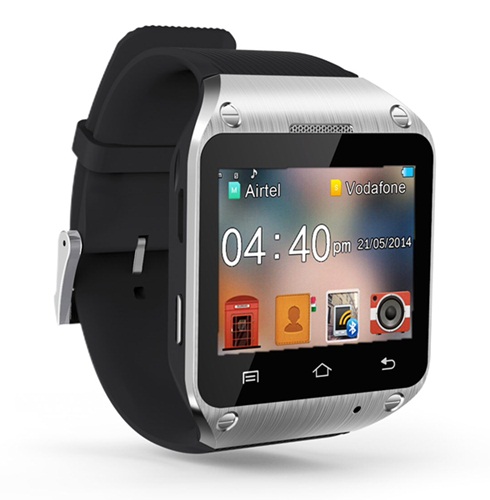 Offering new stunning technologies and changing the morphology of a phone, has got its place in every manufacturer's DNA by now. Starting from wired phone, now phones look like a wrist-watch too. With the ancestor of this kind from Sony and Samsung, Spice Retail recently launched Smart Pulse M 9010 Smart Watch, first of this kind from the company. This phone cum smart watch is priced at 4,990 INR and features a dual-SIM support with voice calling and messaging. To make and receive a call, Spice provides Bluetooth headset and it can be easily paired with an android phone using the Bluetooth.
Smart Pulse M-9010 sports a 4cm QVGA TFT touchscreen with the resolution of 240X320 pixels, audio and video player, microSD slot, even a VGA camera with LED flash. It runs on company's Java-based operating system and supports 2G Dual-SIM activity. Spice has not provided the details of the processor of this smart watch during the launching, which can hinder while taking decision to buy this product. In-built internal storage capacity was not specified by the company also; however it has 8GB expandable storage by microSD card.
It has connectivity options like 2G (GPRS/EDGE). It also have FM radio and the keyboard system supports English along with Hindi. The Spice Smart Pulse M-9010 packs a 420mAH Li-ion battery, which supports 180 minutes of talk-time and 2 days of stand-by time. The smart watch measures to be 41.7×53.7×13.6 mm and will be available in black and blue. Spice Smart Pulse M-9010 box will have accessories like Bluetooth headset, two extra wristbands etc.
Why you should go for it:
If you are trying to get hand-on experience of a smart watch and with a little budget crunch, Spice Smart Pulse M-9010 is the one for you. It has competitors like Samsung Gear, LG G and Motorola 360, but the cost of the one from Spice, is the biggest attraction. Other merits are as follows-
Standalone phone with dual SIM activity
Make and receive call
Other Android running platforms can be paired with the smart watch via Bluetooth
4cm full capacitive touchscreen
VGA camera with LED flash
Read and compose SMS
Web-surfing
A new fashion where your phone looks like a wrist-watch and worn like one.
Why you should not go for it:
With having said that, nothing is perfect in this world, every gadget has its own de-merits. Spice Smart Pulse M-9010 is not an exception. However it is offering a new fashion, but this smart watch can make you bite your nails later.
Nowadays, internet connectivity gone so fast and unavailability of 3G service is by far the biggest de-merit of this smart watch.
One needs tiny and point like fingers to dial the numbers from this 4cm screen.
One cannot add more apps than what it already has.
Verdict:
However, it looks cheesy to impress kids over the gate or the ladies at your school, but this smart watch is not like that smart to have for tech-savvy people. This is not a great phone, nor even a great watch either. But as the price is not that high, you can probably give it a try, just don't expect too much from Spice Smart Pulse M-9010.