THE MOST CURIOUS GADGETS OF THE IFA
The IFA Berlin is a fantastic setting in which practically everything is possible. From smart fridges that tell you that you have to make the purchase until new smartphones that promise to give the ring of the year. But, in addition, the IFA is also the place where new inventions are presented, great ideas that take the form of small gadgets. These are the gadgets that have attracted our attention this year at the IFA Berlin 2016
Welt, the smart belt that watches over your health
Welt is the brand that gives a name to this curious gadgets. At first glance, it is an elegant leather belt, but if we look a little in depth we can see in his buckle, a small microUSB input. Yes, we are in front of a new wearable, smart belt.
Welt is a belt that has four basic functions:
Measure the size of the waist.

Count the steps.

Count the time we spent sitting.

Point out when we have been eating. Yes, that moment when we loosen the belt.
Welt collects all these data, which are processed through his application which simply shows, through colors, our habits. In addition, the app also provides us with a plan to keep us at a healthy weight and a series of exercises to stay in shape.
This gadgets are not yet available, it is a project that is being funded through the Kickstarter virtual patronage page. Shipments will start as of January 2017. A curious gadget that combines health and fashion and is a reliable show that wearables are an increasingly everyday reality.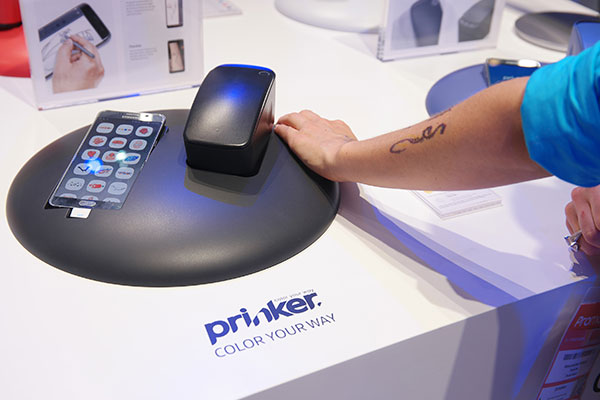 Prinker, the temporary tattoo printer
Prinker is a temporary tattoo printer that transfers designs from your Android to your skin. With the motto "express yourself" StechOn, the company responsible for the product, says that this gadget will change the concept of how you express yourself
I fell in love with the product and as a good lover of tattoos, I believe that art on the skin is one of the most important forms of expression. The Prinker is very simple to use. In a matter of seconds, downloads or you make a drawing in your smartphone that sends to the image to the mini printer. Then the device is passed over clean skin and as if by magic, the design passes to the skin.
Obviously, it is not a product that we all will have at home but at events or children's parties can be an element that encourages the party. That horrible spider-man make-up could improve a lot.
The project is also under development, initially focusing more on the business world than on the private sector. The paints used are hypoallergenic and last between one and two days on the skin.
SGNL
SGNL is a bracelet that turns your hand into a phone. Yes, it looks like witchcraft but in reality, it does take advantage of a basic principle of physics to transmit the sound by your hand. This strap can be worn on any watch as it is compatible with standard straps between 18 and 24 millimeters.
Near the clasp has a protuberance with which transmits the vibration of sound, as if the diaphragm of a speaker was. But instead of passing the vibration to the air, the sound is transmitted by the bones of your hand. Just bring a finger to your ear to listen to the conversation. This greatly increases privacy since no one except you can hear anything, since the sound is not transmitted through the air.
To connect your smartphone with these  gadgets you only need to install your application and have the bluetooth on. On the strap you have five LEDs to view the status of your battery and you can also program frequent numbers from your application. So just from the bracelet you'll be able to talk to people without having to take the smartphone out of your pocket.
Nintendo Classic Mini (NES)
The version of the old Nintendo console is back, to make the most nostalgic players happy. The console includes 30 pre-installed games (obviously contains Super Mario Bros, Donkey Kong and Pac-Man) and can be connected to the TV via an HDMI cable. Included in the package we find not only the cable but also a command: ready to save the princess and accumulate gold coins jumping from one mushroom to another?
The price has gone up a lot since the gadgets launch when we could find it for € 70 and is now available on Amazon for about € 225. The price increase has made it become more of a collectible jewel than a gift to use.
Star Wars USB Memory
Who does not need a USB stick by hand? With this USB 2.0 16GB inspired by characters from Star Wars you can surprise the lovers of the saga and the useful and original gadgets. You can choose between Darth Vader, Yoda and Stormtrooper.
WhatsApp Chat Book
whatsApp is always ready to surprise us, but this time it does not with a new feature, but with an interesting gift idea. This is a book that collects our WhatsApp conversations with their included emoticons and photos. A kind of photo album in which we can choose the format: digital, printed with flexible or hard caps. An original idea to remember the best digital moments spent with friends.
To create and order the WhatsApp book, there is no need to do more than access this web, connect the device to the WIFI, select the format that we like the most and the operating system of the smartphone. Then a tutorial will show you how to export the conversations you want to print. The price? € 29.90 for the hardback book, € 24.90 for the flexible cover and € 14.90 for the digital format in a PDF file.
Sphero BB-8
The small robot BB8 is ready to walk around the house and respond to your requests. This curious "android" made its appearance in 2015 but well worth proposing again, at a price a little cheaper. Take a look at our article to find out what the Star Wars robot is capable of doing before wrapping it in wrapping paper.
Cheap technological gifts
Thanks to the great variety of products that have been released, wanting to give away technology are no longer synonymous with making an expensive gift. Here is a list of the cheapest technological gifts that we have liked.
Chromecast
Chromecast and your cousin Chromecast Audio. The ability to watch and listen to our favorite streaming content on television and on the speakers make these devices the ideal gift for anyone.
My Band S1
It may be the most affordable wearable gadgets on the market, but nothing to envy others with this price. For little money, you can control the health of your loved ones. With the Mi Banb 1S bracelet you can monitor your steps, your pulse, how many calories you spend, how far you have gone, how much you have slept at night and set alarms so you never forget birthdays. Do not worry if you shower with it because it is resistant to water and dust (IP67 certification). Also, you do not have to worry about the battery because it has an autonomy of 30 days. If you do not give it to him, he will buy it sooner or later.
Chipolo Plus
Ingenious Bluetooth device looks for our lost objects, from the keys, to the phone. It is configured very simply. It will tell us if our lost object is near or far and will emit a sound when you locate it.
Smartwatch: Huawei Fit
It is not a powerful Smartwatch but it is the best in terms of quality / price and may be the most practical in the market. Huawei Fit is a very special smartwatch. It may look like an activity bracelet but it actually has the whole soul of the watch. The best thing about this gadgets is that you will not have to load it every day like the rest of smartwatches in the market as it will last almost a week.